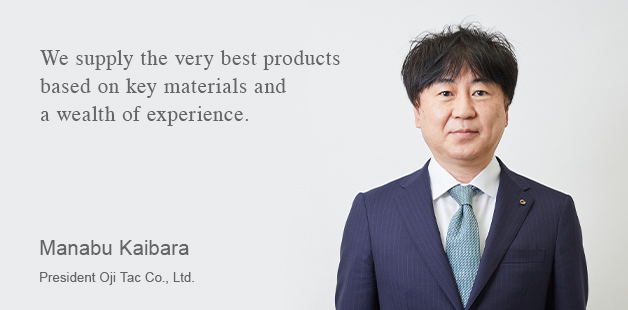 Thank you for visiting the Oji Tac website.
As a general processing manufacturer handling all manner of adhesive products, we supply customized adhesive products after quickly and accurately appraising our customers' requirements. In this, we are supported by our experience as a top manufacturer of paper related products, and our knowhow on adhesion processing technology amassed over many years. In our corporate structure, meanwhile, we play a key role in the functional materials business as a member of the Oji Group Functional Materials Company.
Although we are involved in producing labels, tapes and other adhesive products, many people will be unaware of the connection between Oji Tac and labels found in general markets. This is because our products are the basic "adhesive materials" used for printing and processing labels for different purposes; we supply the suppliers, who in turn supply the public.
But actually, our products are never far from daily life, be they fresh food labels in supermarkets or logistic labels on home deliveries. And as such, they play an important role in expediting the flow of goods and information in society.
Japanese market for adhesive products today has reached a degree of maturity, but new needs based on the demands of the age are being created all the time. Continuous innovation in information technology is a good example; heightened awareness of the environment is another. Personally, I see our present situation as a perfect opportunity for opening up new fields.
Our three main areas of business are self-adhesive products, adhesive tape products and processed products. We have also established Development Department for proposing new products in tune with social environments and market trends in all of these areas, enabling us to respond accurately and quickly to customer requirements. With this system, we can proceed more rapidly in resolving our customers' problems and developing products.
Beyond this, we are promoting active links between our own technology and the innovative technology of Oji Group companies, with the aim of building the R&D-based business sought by the Functional Materials Company. With this, we are creating a system for identifying new possibilities in adhesion processing technology.
On the manufacturing side, we intend to establish a production system that will enable us to deliver products reliably, even in unforeseen circumstances such as natural disasters or accidents. As a result, we hope that our customers will always be able to choose our products with reassurance. We will also clarify the state of progress in our objectives, targets, and acquisition of ISO status (quality, environment) in our factories, among others, and link this to increased efficiency and structural improvement. All of our employees will observe rigorous quality and environmental standards, thus further raising our levels of quality and safety. In this way, we intend to forge ahead so that we can amply fulfil the responsibility assumed by Oji Tac as a company toward all of our stakeholders, including customers and employees.
Our aim is always "to satisfy the customer", and thereby "to contribute to society". More than anything, we are focused on satisfying customer needs to a high level, thereby having our products permeate society and helping to create a better society. Moreover, by further improving our own adhesion processing technology and production environment and fusing this flexibly with the solid background of the Oji Group, we aim to provide higher quality products and faster development and solutions.
I hope you will use this site as a source of information for expanding your own business opportunities, and as a site for communication, including questions about our company and our products.